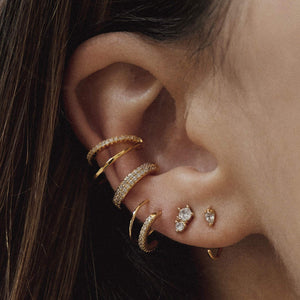 Meet The System
THE SYSTEM is our unisex system of modular, interchangeable pieces that you can compose and arrange in infinite beautiful combinations.
We are jewelry architects, making primary objects for you, the artist, to make your own.
SAVE ON SYSTEM KITS
Simplify your jewelry routine without sacrificing creativity. THE EARRING SYSTEM features three stylist-approved modular kits of earrings that you can remix and reimagine to create your signature look.
Classic Hoops
Start your ear stack with our collection of classic hoops designed to mix and match in perfect proportions.
Delicate Studs
Dainty and delicate symbolic studs that tell your story.
Ear Cuffs
No-piercing-required ear cuffs to up your ear game - it's always cuffing season at Maison Miru.
Statements
Signature pieces that are sure conversation starters.
Cartilage Hoops
Decorate your ear from top to bottom in our premium quality cartilage hoops.
Flat Back Earrings (aka Nap Earrings)
Our flat back earrings (aka Nap Earrings) are poke-free and designed to wear 24/7.
Jewelry for Dreaming, Playing and Creating ✨
Maison Miru is a unisex system of jewelry: essential pieces that you can play with to endlessly remix and reimagine.
We make jewelry for dreamers, thinkers and makers - people who value imagination and play as a driving force for life.