Best Earrings for New Piercings: What Jewelry to Get Pierced In
We know that the most exciting thing about getting a new piercing is choosing your new jewelry. But a proper piercing experience starts with choosing the right piercer - and then choosing the jewelry that's right for you and following up with the appropriate piercing aftercare. You're going to want hypoallergenic starter earrings to get pierced in - there's a lot to know, so we created a little guide for you so you can choose the earrings that are right for you!
What should I look for when deciding on a piercing studio?
Do your research and choose a professional piercer that meets (or better yet, exceeds) the standards set out by your state. As professional piercer Ryan Dreyfuss of Relic Body Arts says, "At a minimum this means your piercer will have a clean, inviting studio, an in depth portfolio showing healed work, and has met all standards set forth by the Association of Professional Piercers.
Your piercer should use a sterile, hypoallergenic needle for your piercing - not a piercing gun. By using a needle instead of a piercing gun, your piercer can make a smaller and more precise hole for your earring - and then place the starter stud in your ear after the hole is made. A piercing gun, by contrast, makes a larger and more painful hole in your ear and places the stud in your ear all in one motion.
What material(s) should my starter jewelry be made out of?
Based on the guidelines from the Association of Professional Piercers, you have a few options for starter earrings:

14k Solid Gold: Look for gold styles that are 14k or 18k, and free of nickel and cadmium. Our solid gold piercing jewelry is designed to meet these standards.
Titanium: Look for implant grade titanium that is certified to be ASTM F-136, ASTM F1285 or ISO 5832-3 compliant, or commercially pure titanium that is ASTM F-67 compliant. Our titanium piercing jewelry is made of implant grade titanium that is ASTM F-136 compliant.
Stainless Steel: Look for biocompatible grades of surgical steel that are ASTM F-138 or ISO 5832-1 compliant, ISO 10993-(6, 10, or 11) compliant or EEC Nickel Directive compliant. We don't currently make any stainless steel piercing jewelry, but it's a good affordable option to the implant grade titanium or solid gold jewelry.
What else should I know about jewelry quality for my starter earrings?
The key to choosing your starter earrings is to find the jewelry that's right for your personal anatomy and that will help you heal quickly and without issue. Beyond choosing jewelry made with the right quality of metal, you're also going to want to look for jewelry that's free from nicks or scratches. These are areas where bacteria can grow, which can cause infections for your fresh piercing. You don't want any uneven surfaces, as your piercing will heal around those uneven surfaces and when the jewelry moves, you'll experience irritation and scar tissue forming.
Our piercing jewelry is designed to be safe for healing piercings - we polish our jewelry to a mirror finish (no nicks and scratches!) and the surfaces are smooth to be safe for your piercing.
Solid gold piercing jewelry is a little too pricey for me. What should I do for starter earrings?
That's completely okay! We recommend opting for an implant grade titanium, but choose a style that is 100% implant grade titanium. While all of our titanium piercing jewelry has an all-titanium backing, some of the styles have a sterling silver top because we can't currently make some of the more intricate styles in titanium (it's a super hard metal and difficult to work with). We're working on exploring different technologies to be able to give you a wider range of all-titanium styles though - so stay tuned!
The other thing to know is that starter earrings should not be plated, so our gold colored titanium earrings are suitable only for healed piercings right now. We're working on exploring new technologies to make a wider range of styles and metal colors in all-implant-grade-titanium though! In the meantime, here are the all-titanium styles that are suitable for new piercings in the titanium silver color: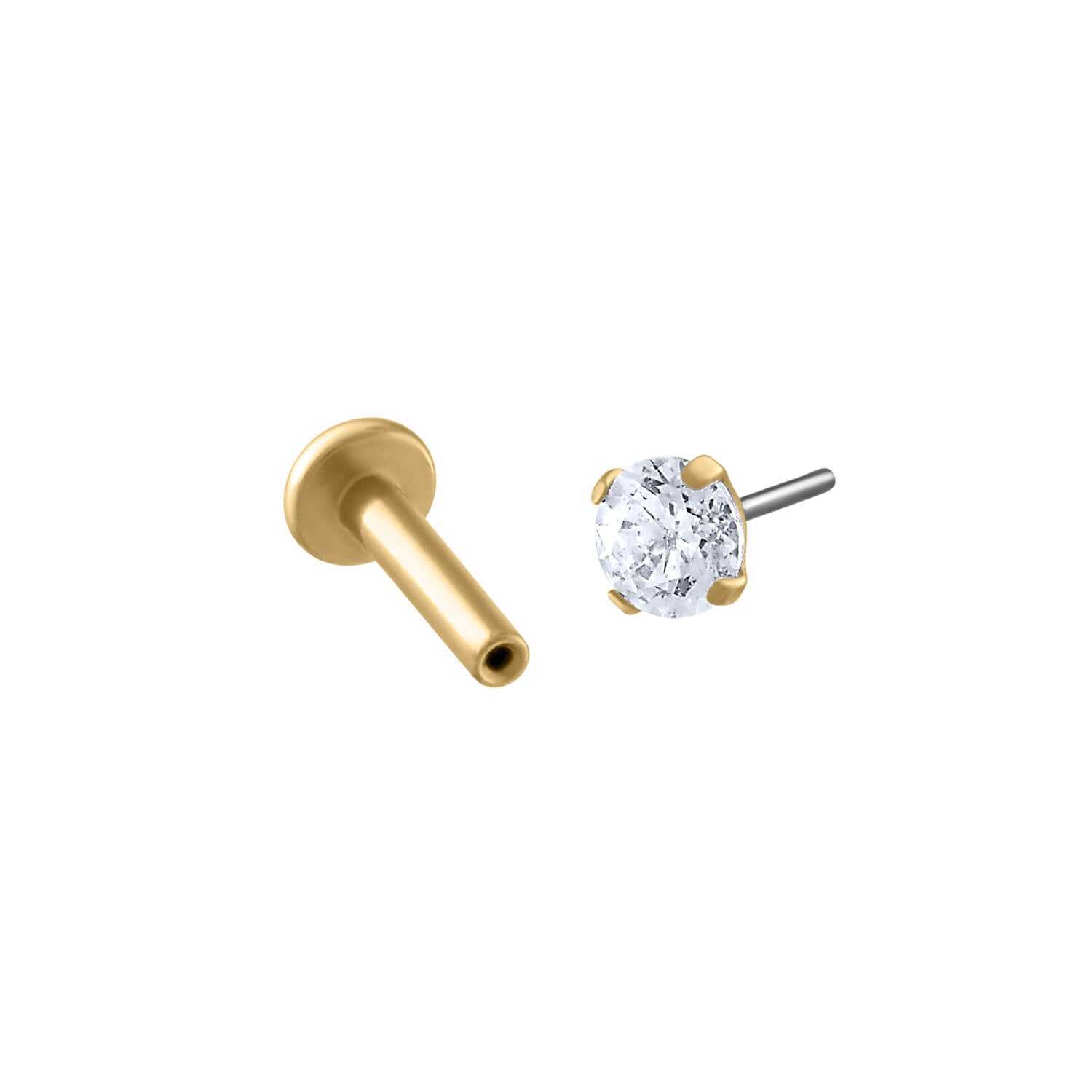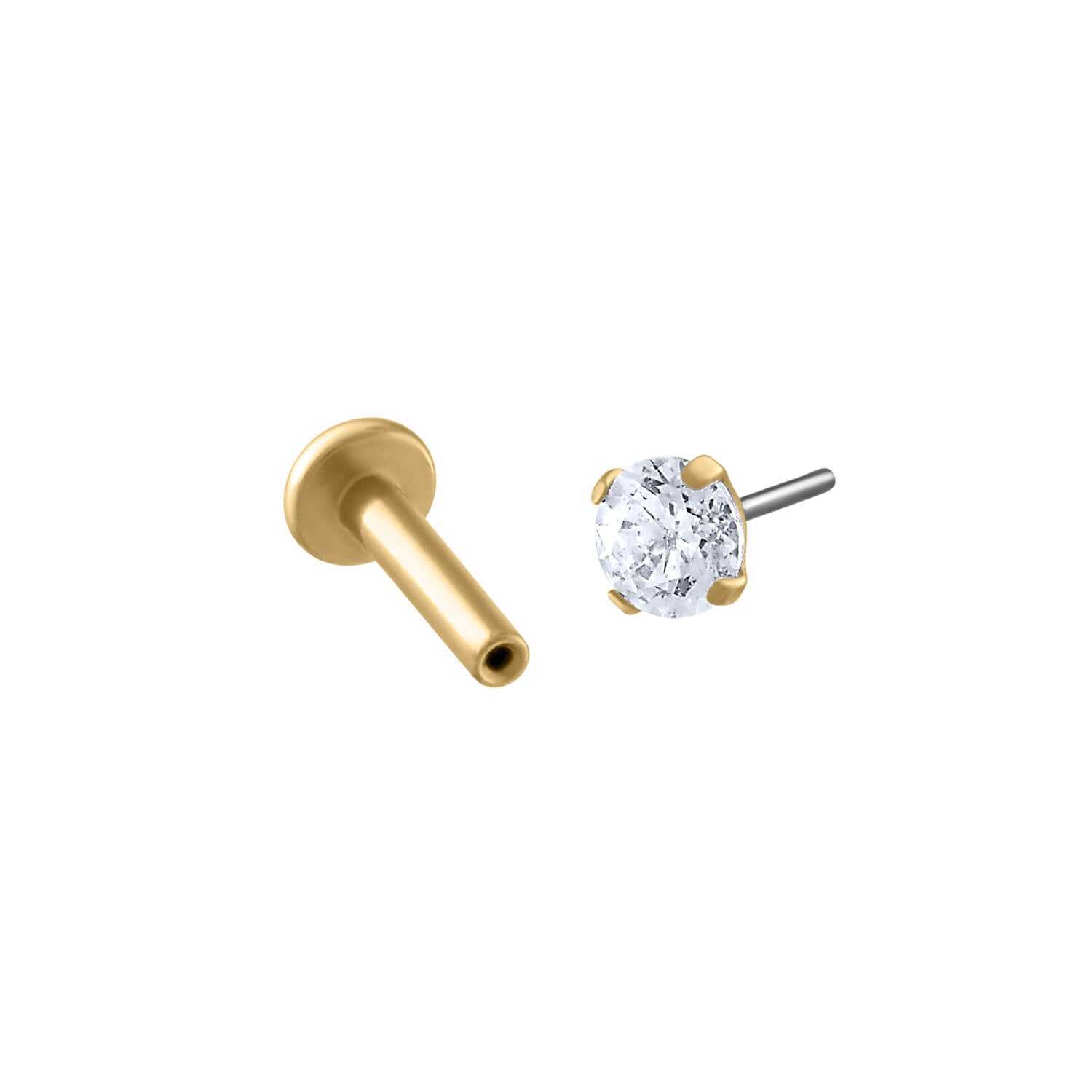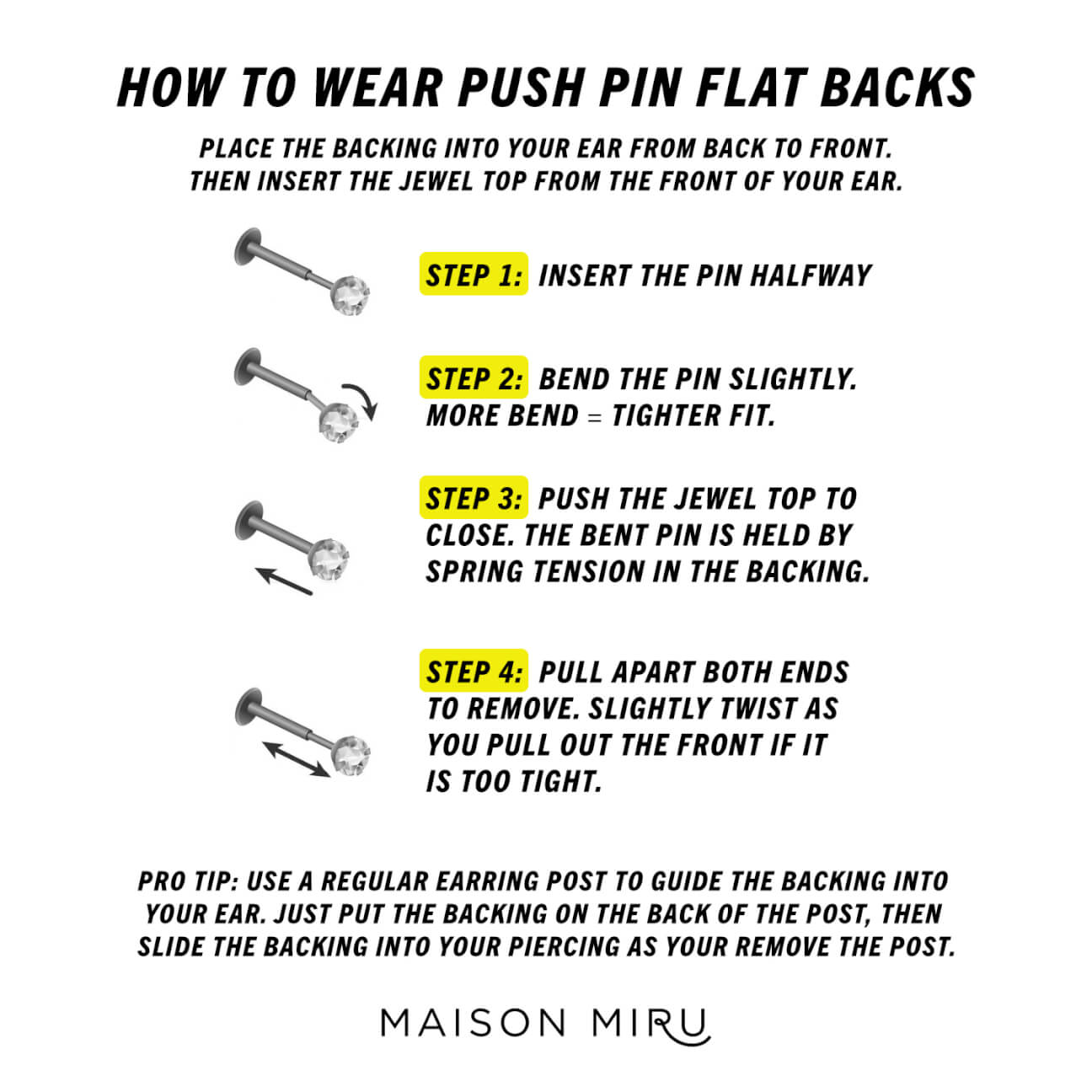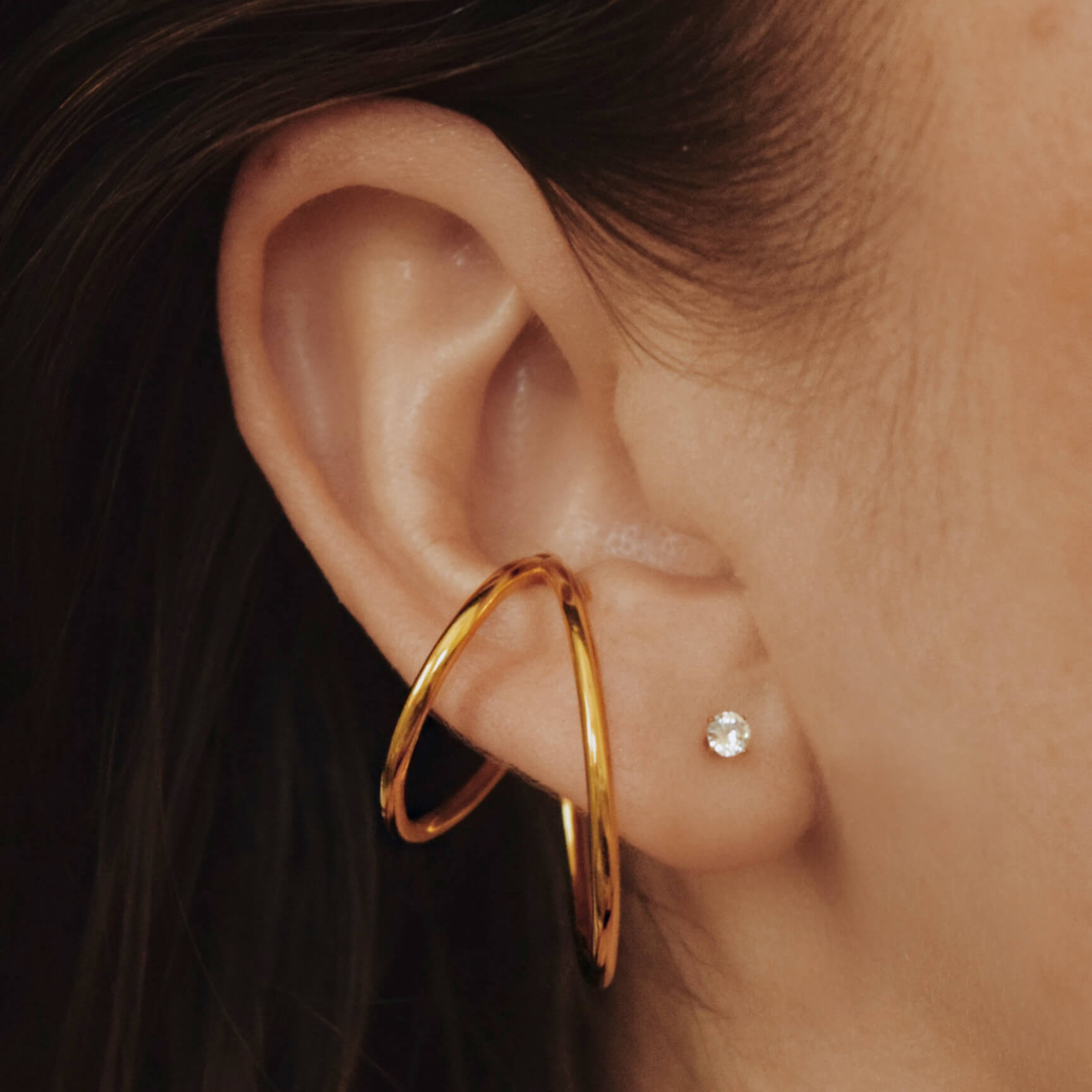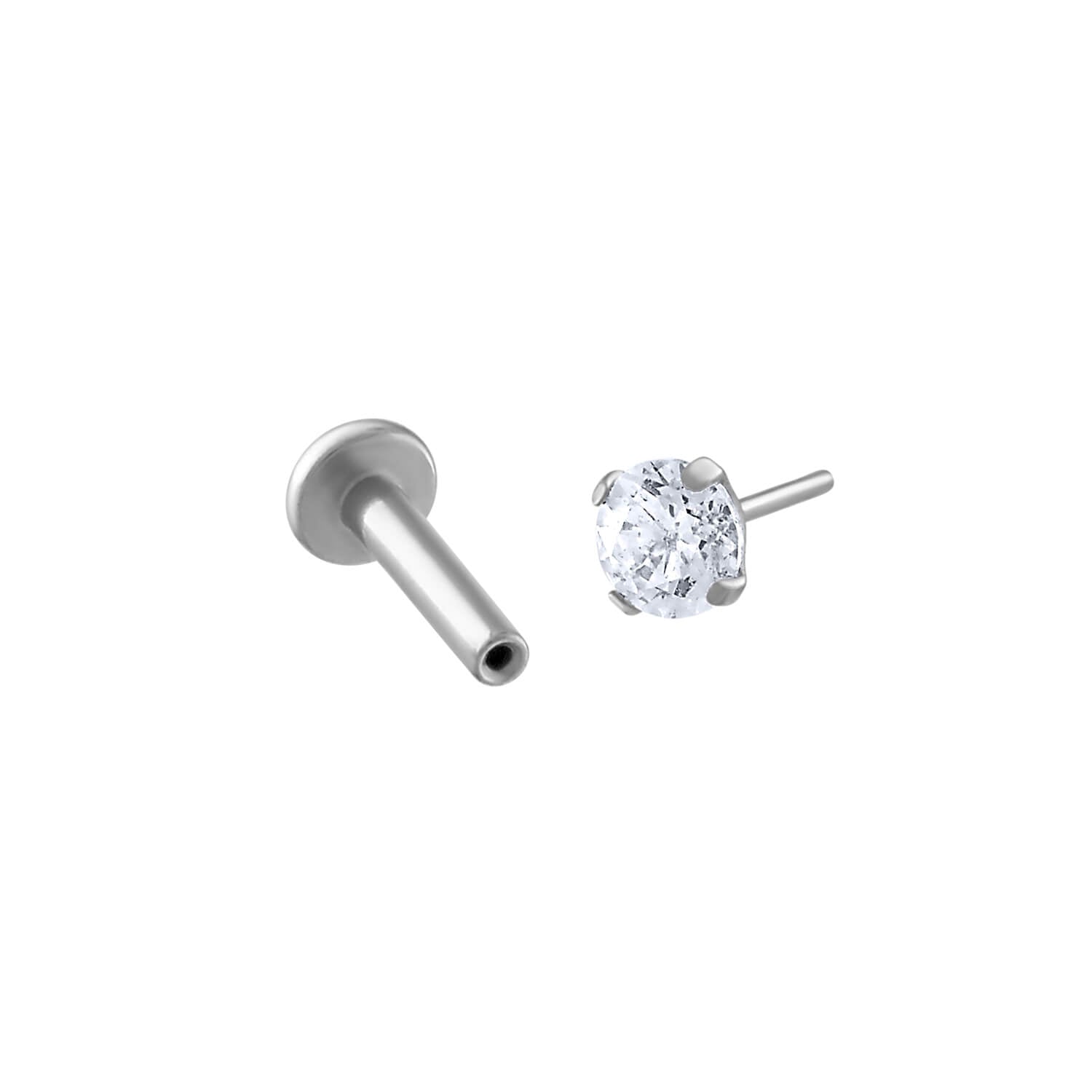 Celestial Crystal Push Pin Flat Back Earring
$40.00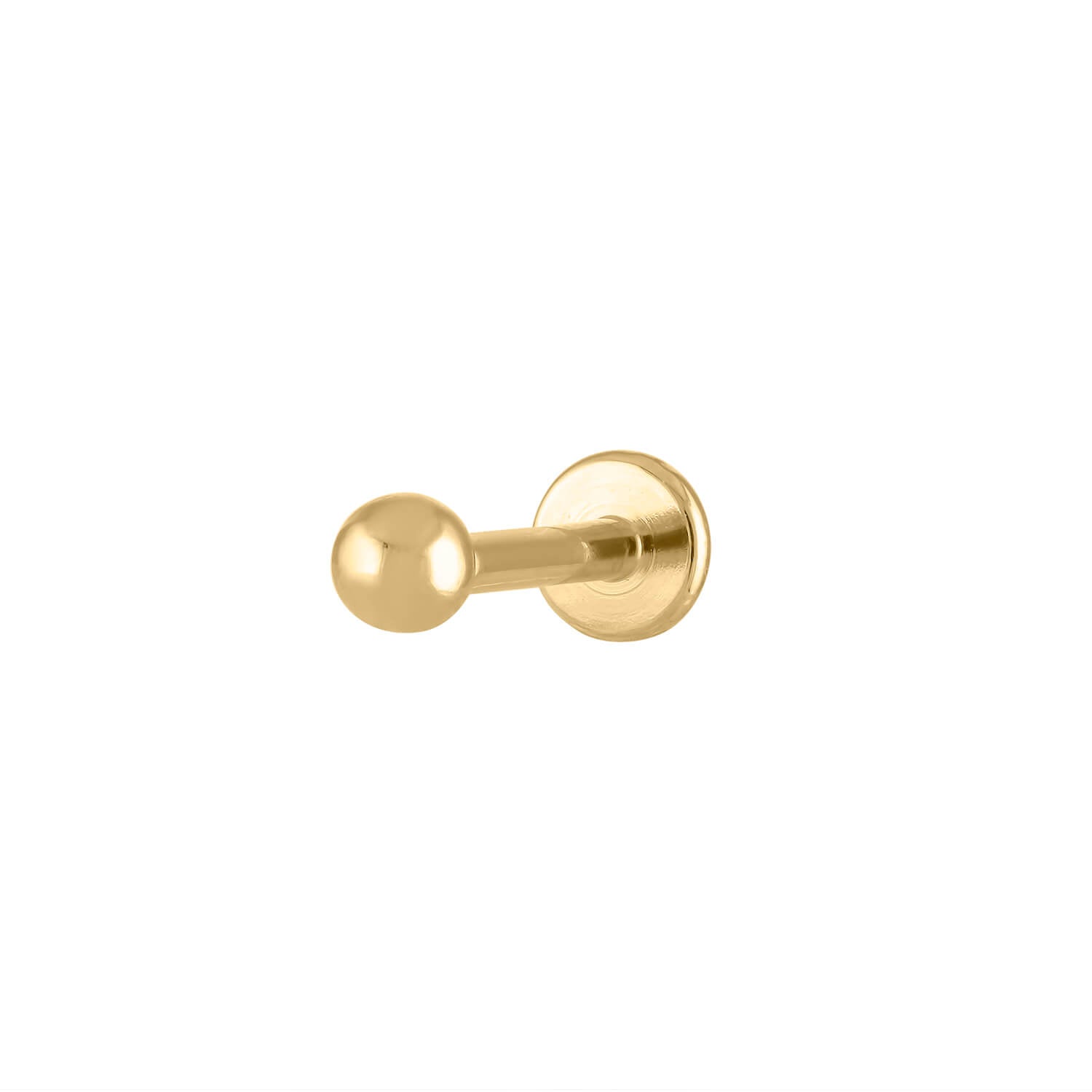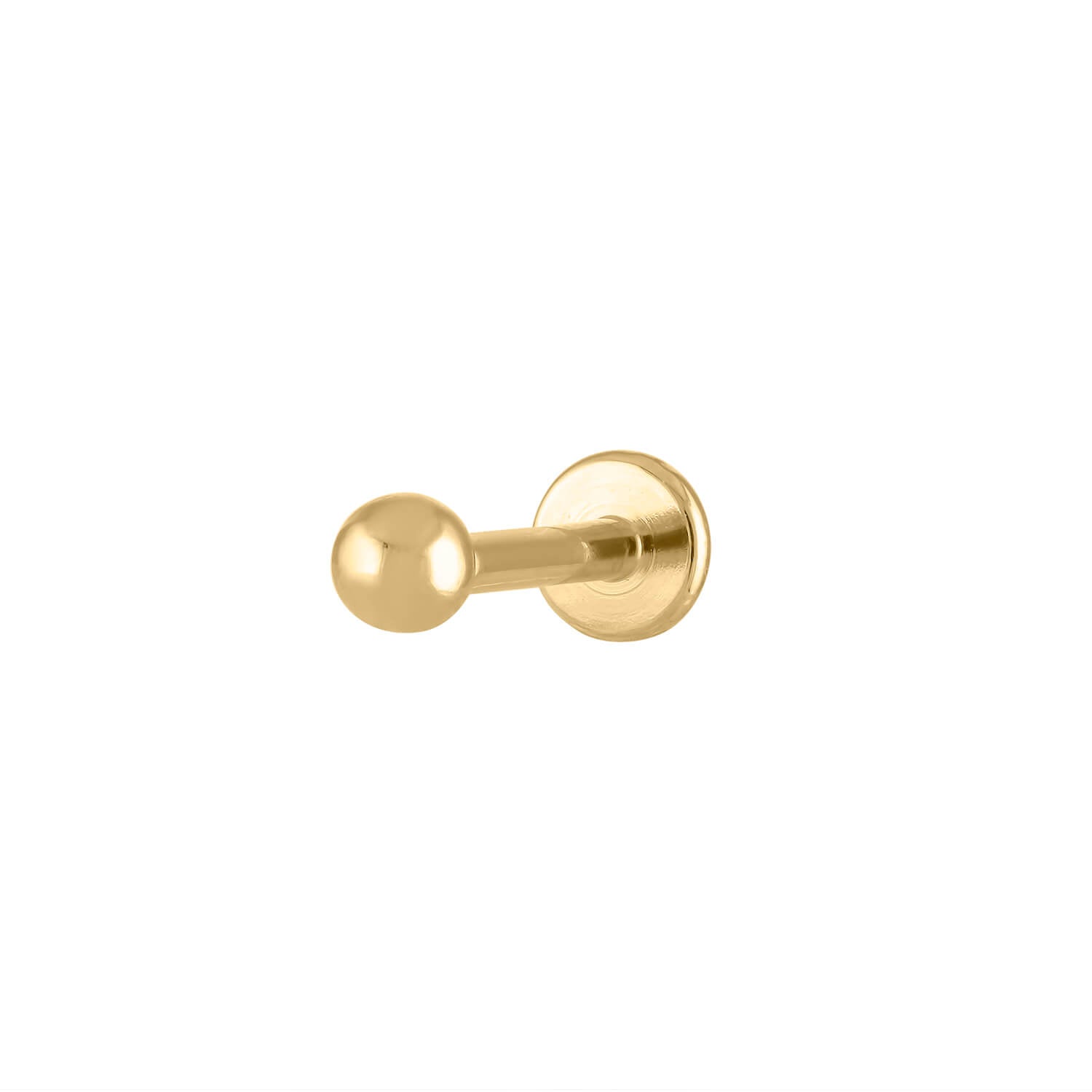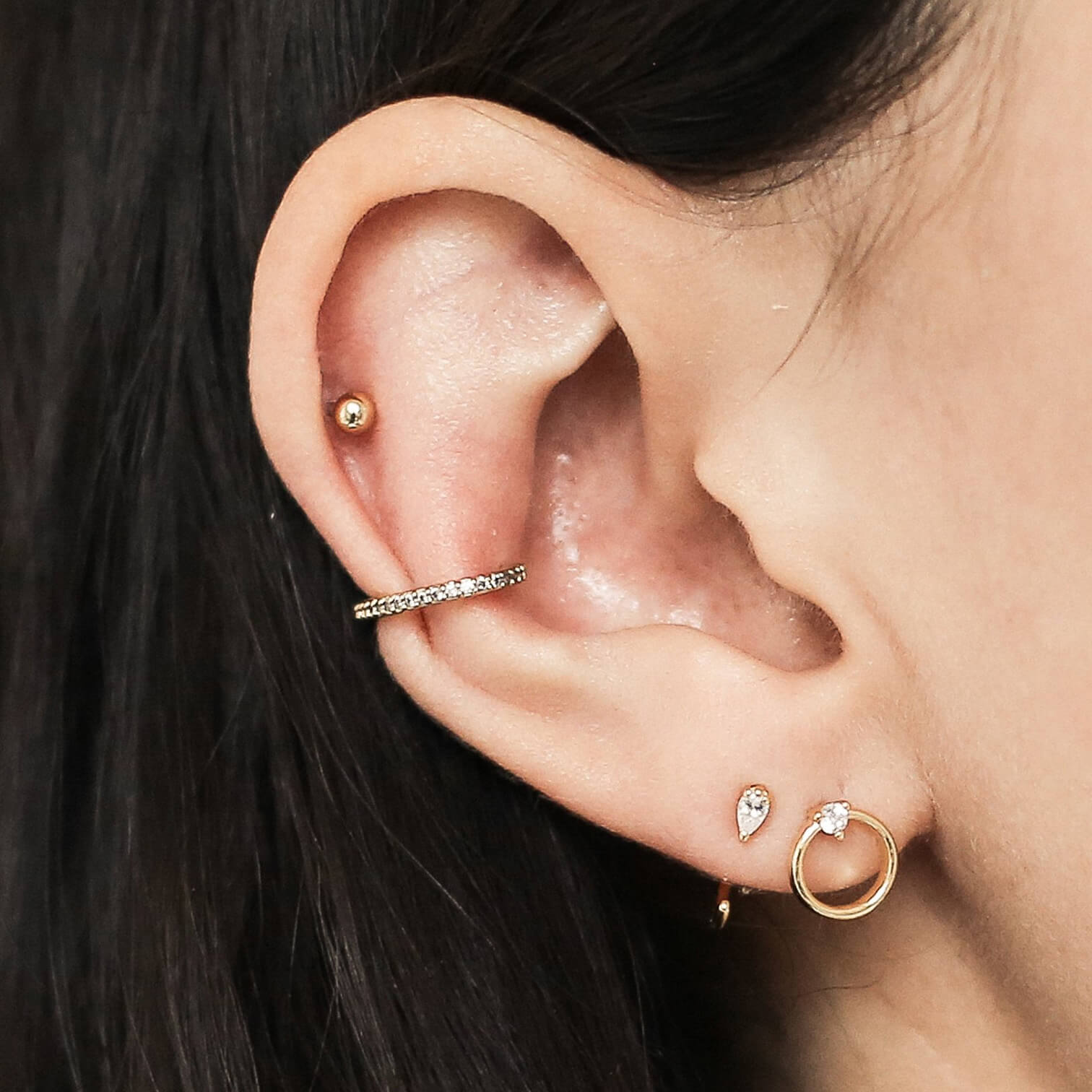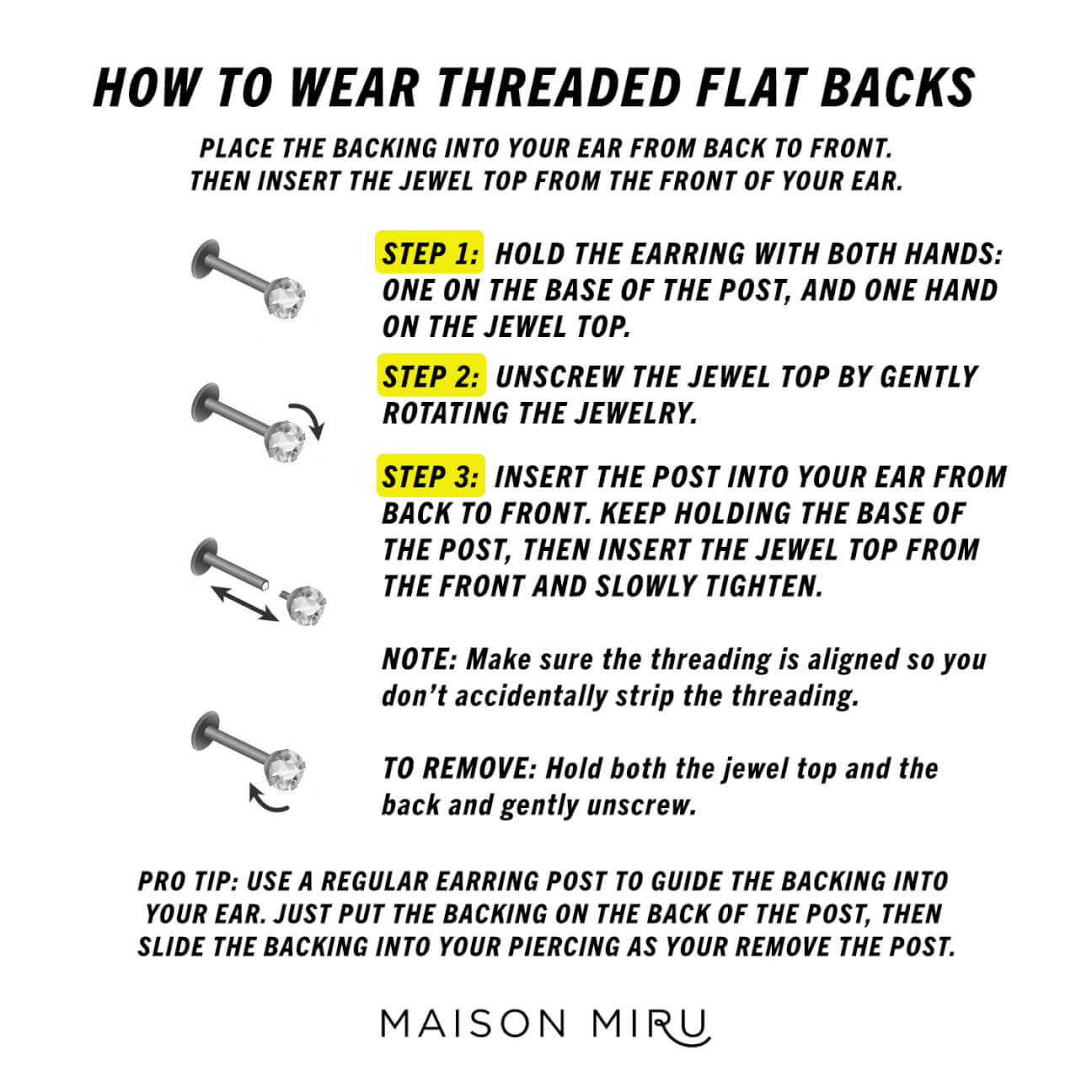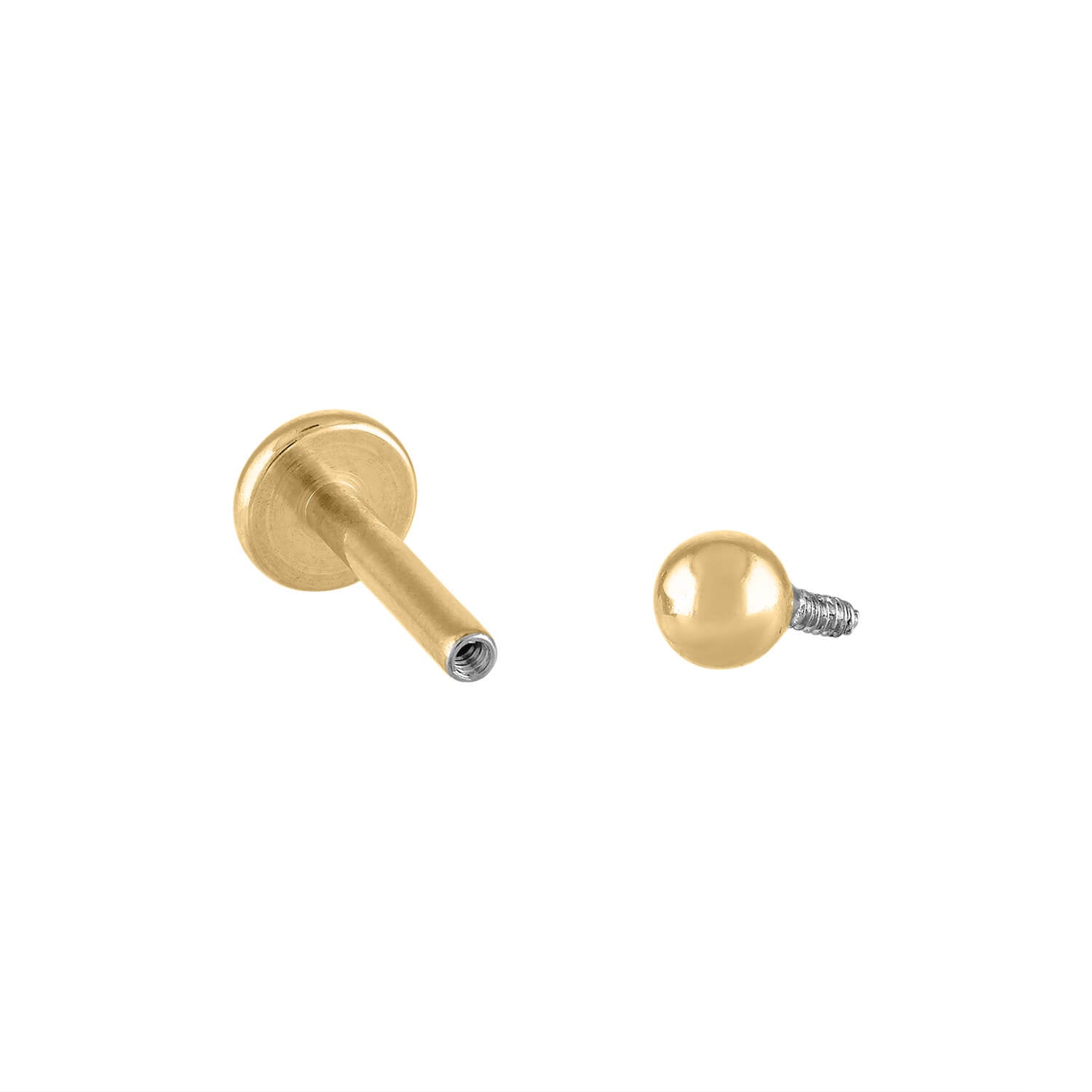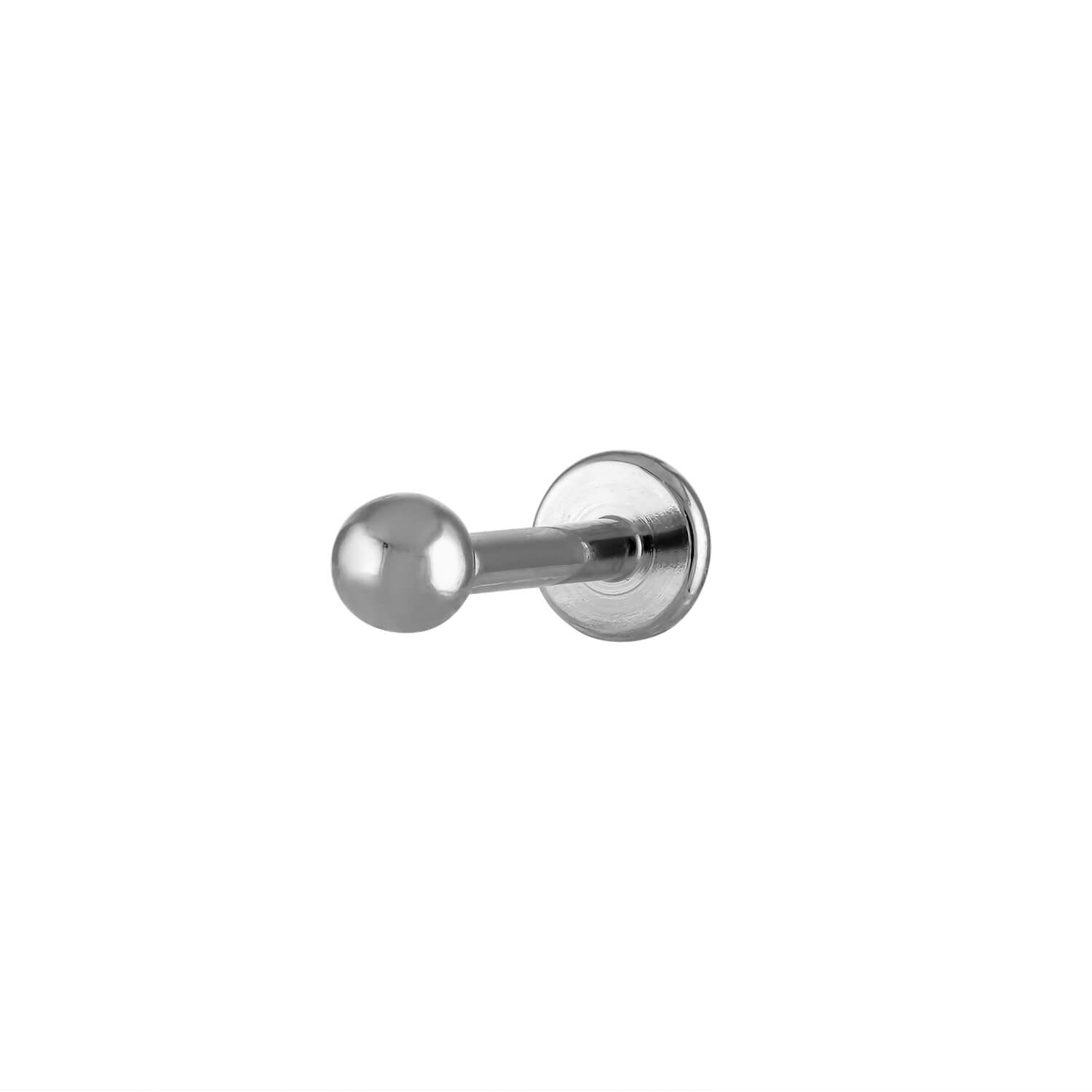 Little Sphere Threaded Flat Back Earring
$40.00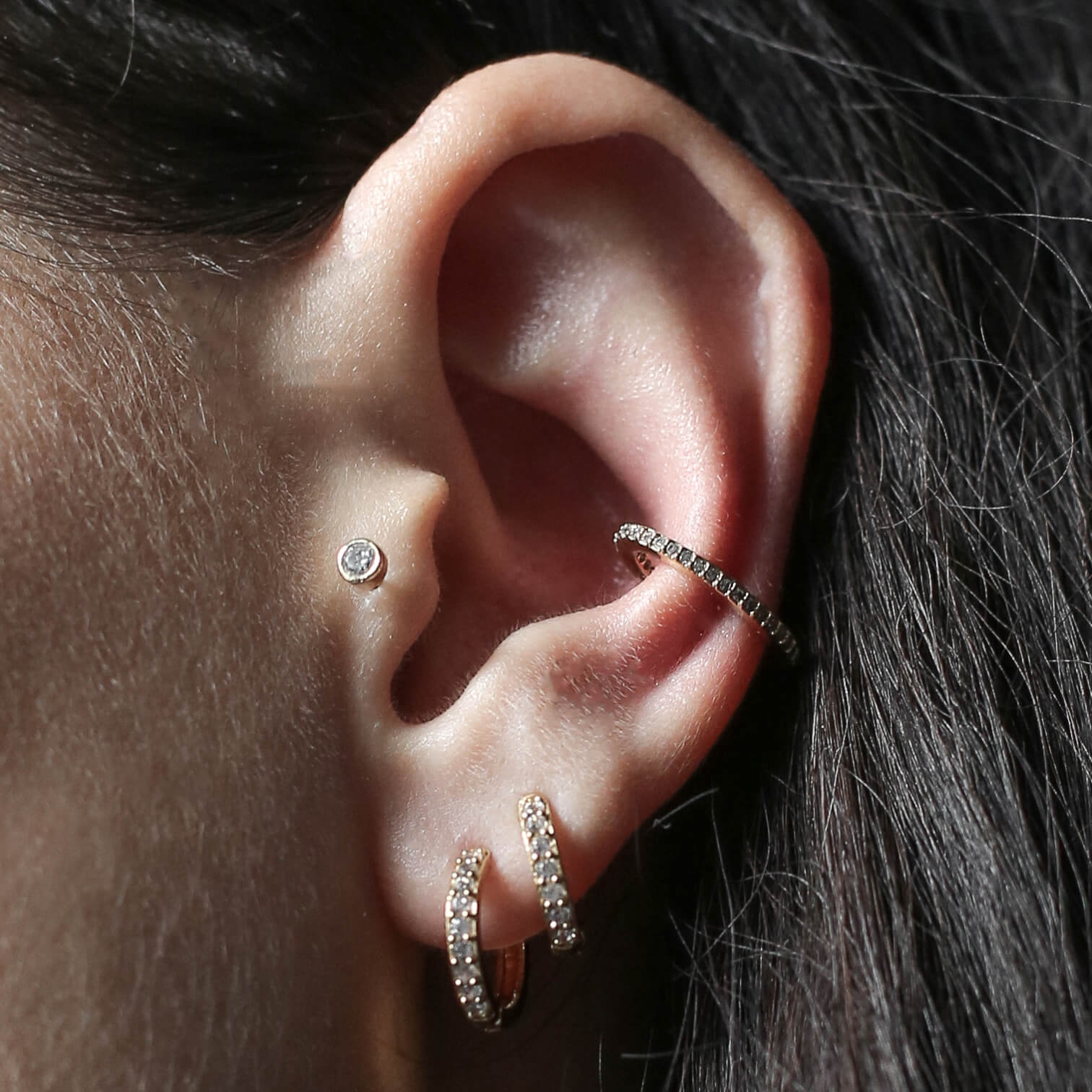 Tiny Crystal Push Pin Flat Back Earring
$40.00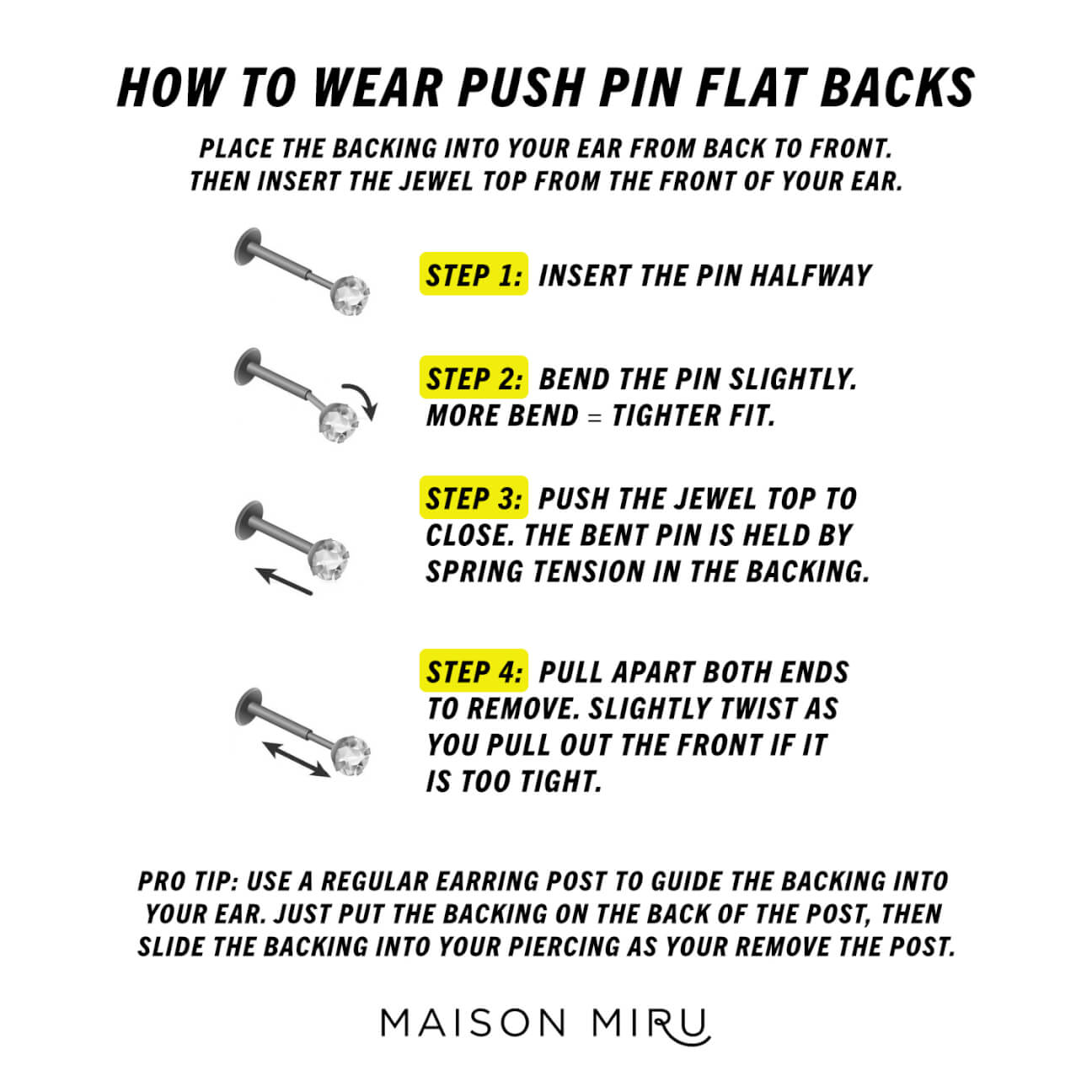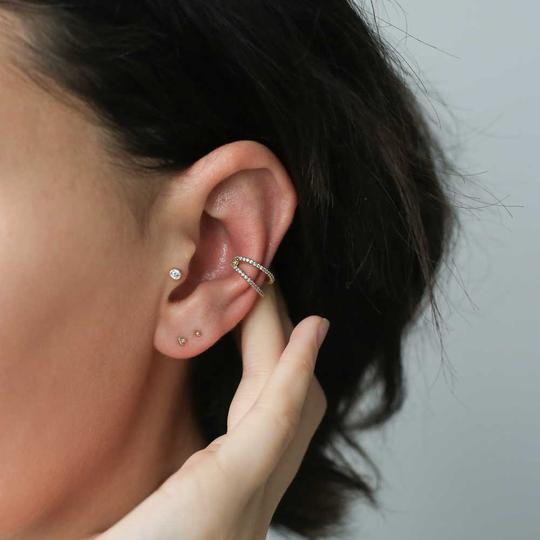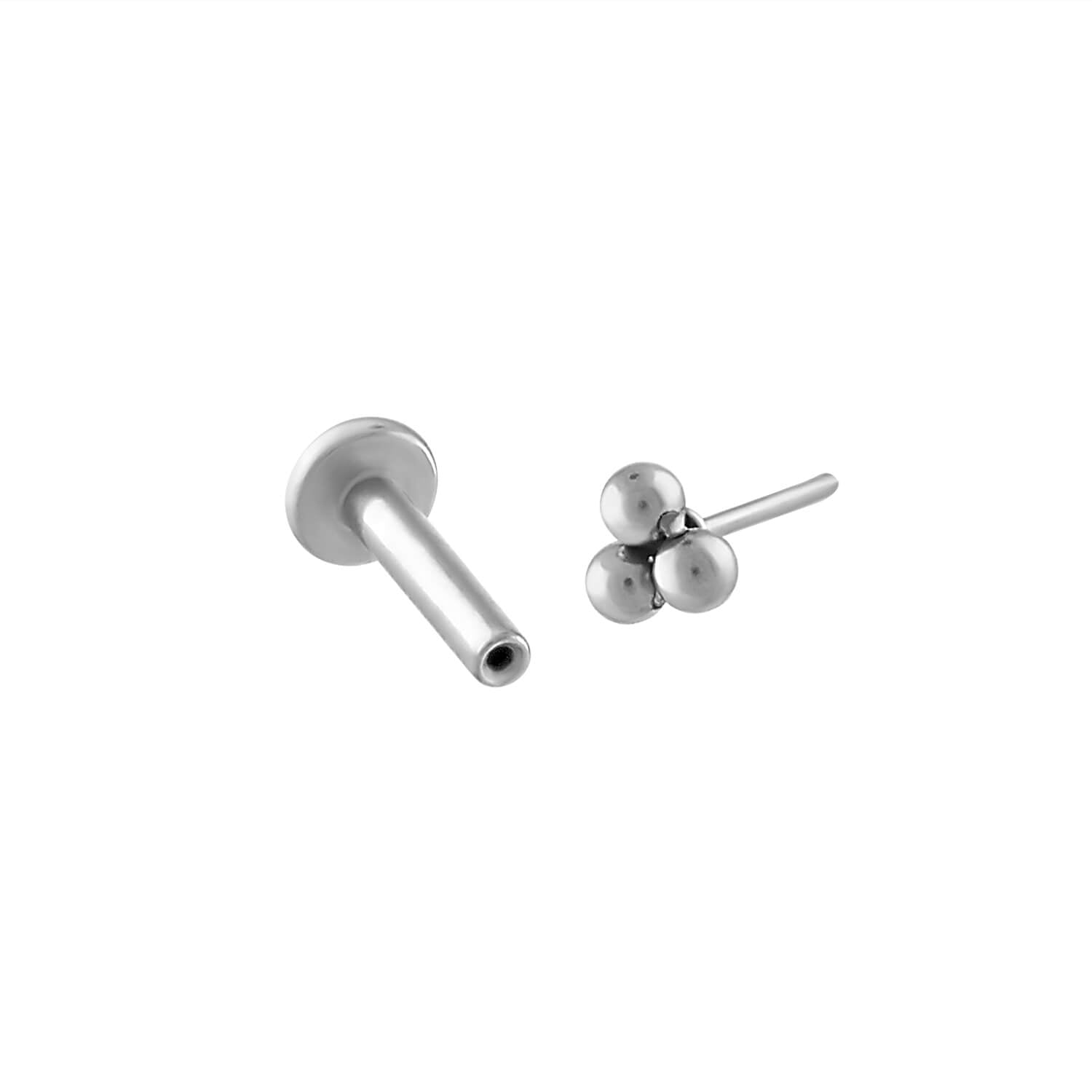 Tiny Trinity Push Pin Flat Back Earring
$40.00
What material should I avoid for my starter jewelry?
Stick with either the solid gold or 100% implant grade titanium or biocompatible stainless steel to prevent irritation on your fresh piercing. Any plated jewelry or other materials should be introduced only after your piercing has fully healed.
Anything else I should know about getting a new piercing?
It's completely natural to have lots of questions about getting a new piercing - and it's important that you're fully informed about the whole process. If you want to know all about your different piercing options (tragus, helix, rook, etc), we created a guide to all of the piercings for you.
👇 Shop earrings for new piercings 👇